Please Note: After a recent Tesla software update, the ability to manually initiate the TPMS Reset has been removed from many vehicles. Instead the vehicle should determine that a change has occurred within the first 20 minutes of driving after a new sensor has been fitted, at which point the driver will be displayed with the option to select the correct wheel size.
Because the message sometimes now takes a long time to display, or in some cases does not display at all for the first few times the vehicle is driven after a wheel, tyre, or sensor change, a TPMS reset may not occur until a significant amount of driving has occurred. Additionally, if the vehicle is not stationary for at least 20 minutes between drives then the sensors will not be able to provide their locations, which will further delay the process.
Other factors that may delay the TPMS reset include transporting the original sensors (or wheels with the original sensors mounted) inside the vehicle, starting the TPMS Reset from the same location that the original sensors were removed, and driving the Tesla in close proximity to other Tesla vehicles.
| | |
| --- | --- |
| Make: | Tesla |
| Model: | Model X |
| Model Code: | X |
| Date of Manufacture: | August 2014 - August 2023 |
| OE Sensor Manufacturer: | CONTINENTAL |
| OE Sensor Number: | 1034602 |
Die folgenden Sensoren sind kompatibel mit: Tesla Model X 2014-2023.
HTS-A63BB-S139
Clamp-In OE-R Sensor S139
Aftermarket OE Ersatzsensor. Bitte beachten Sie, dass zum Erfassen von Sensorinformationen (z.B Sensor-ID) ein Diagnosegerät erfo... (more)
Barcode:
6924478954723
Vergleichende Teilenummer:
HTS-A69BM-S139, 72-20-995, 5628739,
Ersatzteile für den VDO Clamp-In TG1C Sensor Sensortyp: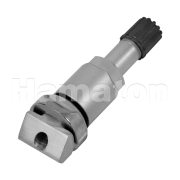 6-231C
Box Of 10 Replacement Clamp-In Valves for VDO TG1C
A box of 10 clamp-in valves, with each including: 1 Valve Stem, 1 Nut, 1 Rubber Grommet, 1 Metal Washer, 1 Valve Cap and 1 Valve C... (more)
Barcode:
6924478968317
Vergleichende Teilenummer:
72-20-482, 5628580, 21117, 5628475, VS-70, 591326,
Sie müssen eingeloggt sein, um die Anlernprozedur einsehen zu können.